Our Curriculum
Virtual learning just became more engaging.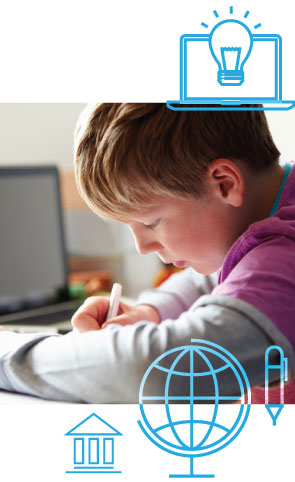 Calvert's research-based instructional approach to online curriculum improves virtual student performance and retention through active and project-based learning. The Calvert curriculum:
Allows students to absorb subject matter and apply knowledge in vibrant, expressive ways

Is research-supported, accredited and carefully curated with content from best‑of‑breed educational publishers


Has been used by hundreds of schools and students in 90 countries
Our curriculum can be delivered through the Calvert Teaching Navigator (CTN) or integrated into your school's online learning management system.

Calvert's K–12 curriculum includes:
Core K–8 Math, English Language Arts, Science, Social Studies, Art, and Art History as well as Health and PE Electives
Over 60 High School Courses available
Daily Lesson Plans with step-by-step instruction — includes suggested daily schedule, assignment summary, and clear objectives
Options for student collaboration on fun and challenging projects to demonstrate understanding
All K–12 content is available in digital format with a digital + print experience option available for K–8.
Learn more about Calvert's flexible benefits for student-athletes, including high school courses approved by the NCAA.
Review our Accredited Curriculum and Programs by Grade Level:
We've loved many things about the Calvert curriculum. Everything is so user-friendly, so vetted, so proven – really, second to none.  Student achievement is a natural result of Calvert's decades of experience. We've even attracted new families because of Calvert… the Calvert legacy speaks for itself.

— Shelley Andrus, Principal K-8, Bonneville Online Schools