Our Curriculum
Foster Student Engagement and Success from a Trusted Source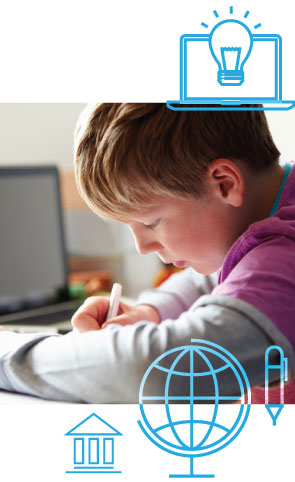 Calvert's curriculum is proven, time-tested, and well renowned as the finest of its kind available today. Educators have long recognized our curriculum for excellence, and its roots date back over a century with the prestigious Calvert School in Baltimore, Maryland.
Our approach employs an inquiry-based method of learning, enabling students to absorb subject matter and use that knowledge in vibrant, expressive ways. In sharing their own knowledge and techniques with peers, students collaborate in a bright, open world of learning with endless possibilities.
A Rigorous Curriculum and Teacher-Approved Lessons
Our rigorous and fully accredited curriculum, delivered on a user-friendly technology platform, provides a foundation for at-home or blended learning settings.
Our learning specialists, all of whom are experienced educators, craft Calvert's engaging and comprehensive curriculum.
Students at all levels are immersed in relevant and quality instructional materials.
With Calvert's high-caliber materials and lesson plans, you can be freed up to guide students toward academic excellence.
Calvert's team researches the best resources and textbooks available. If we cannot find materials that meet our standards, we develop our own.
We provide online materials to support our textbook selections, so students get a thorough, stimulating educational experience
In sum, each of our courses combine classroom-tested materials, teacher-approved lesson plans, and proven educational methods. Relevant online resources match our carefully planned curriculum. The result is an unmatched curriculum focused on student engagement and success.
Review our Accredited Curriculum and Programs by Grade Level:
Individual Students, Individual Needs
Each student is a unique individual with different learning needs. One of the many reasons educators choose Calvert Education is that we recognize and understand this individuality. Calvert's time-tested and trusted curriculum will help your students as they grow and develop their knowledge.
Explore our Individual Courses
Learn about Verticy, our curriculum for students in Grades 3 through 8 who are struggling with reading, writing or math due to dyslexia or other learning challenges
We offer high school courses approved by the NCAA. Learn more about Calvert's flexible benefits for student athletes.
We've loved many things about the Calvert curriculum. Everything is so user-friendly, so vetted, so proven – really, second to none.  Student achievement is a natural result of Calvert's decades of experience. We've even attracted new families because of Calvert… the Calvert legacy speaks for itself.

— Shelley Andrus, Principal K-8, Bonneville Online Schools