Our Curriculum
Virtual learning just became more engaging.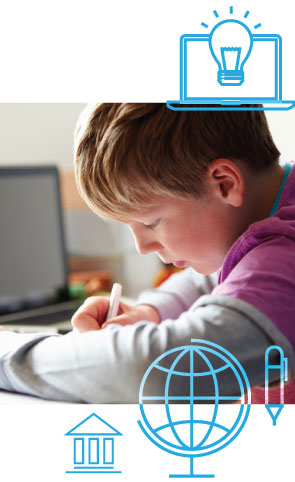 Improve the performance and retention of your virtual students with Calvert's PLUS research-based instructional approach to online curriculum. This pedagogical approach promotes active and project-based learning. Students collaborate with peers on fun and challenging projects that demonstrate understanding.

PLUS Framework:
Calvert's new research-based, digitally-supported, instructional approach
PROJECT — Projects are tailored to add fun and engagement to motivate student learning through standards-based content. These activities support student collaboration, allowing them to engage in a sense of community with teachers and other students.
LEARN — Through our careful choice of interactive digital activities, students are encouraged to think for themselves. Frequent Quick Checks provide formative assessment opportunities, and quick feedback can easily suggest additional remediation or enhancements as necessary.
USE — At the end of every lesson, we formally check that students have achieved the deeper learning (i.e., mastery) of the concepts. These assessments are standards-aligned, constructed response, and sometimes technology-enhanced items designed to show mastery.
SHOW — We provide many creative opportunities for students to showcase what they've learned in exciting ways, driving them closer to a meaningful understanding. Students also have the chance to get helpful feedback from the other students they've been collaborating with in addition to celebrating successes.
All delivered through the Calvert Teaching Navigator (CTN) or integrated into your school's online learning management system.

Calvert's K–12 curriculum includes:
Core K–8 Math, Reading, Grammar, Composition, Spelling, Vocabulary, Science, History, Geography, Art, and Art History as well as Health and PE Electives
Over 60 High School Courses available
eTextbooks with some print options for K–8
Daily Lesson Plans with step-by-step instruction —includes suggested daily schedule, assignment summary, and clear objectives
All K–12 content is available in digital format with a digital + print experience option available for K–8.

Explore Verticy, a specialized curriculum for students in Grades 3 through 8 who struggle with reading and writing due to dyslexia or other learning challenges.
Learn more about Calvert's flexible benefits for student-athletes, including high school courses approved by the NCAA.

Review our Accredited Curriculum and Programs by Grade Level:
We've loved many things about the Calvert curriculum. Everything is so user-friendly, so vetted, so proven – really, second to none.  Student achievement is a natural result of Calvert's decades of experience. We've even attracted new families because of Calvert… the Calvert legacy speaks for itself.

— Shelley Andrus, Principal K-8, Bonneville Online Schools